RECESSION: SACK FEVER, SALARY CUT HIT BANK WORKERS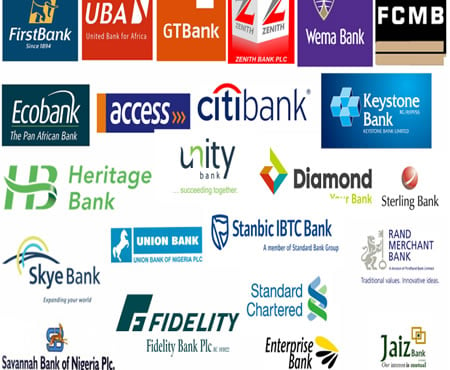 CBN governor tackles Sanusi over criticism
Fresh facts emerged on Friday that employees of commercial banks across the country are apprehensive of the security of their jobs as the nation's economic crisis worsens. Out of the banks that recently reviewed the viability of retaining their staff strength against prevailing difficulties in the Nigerian economy, two of them have settled for the option of a 16 per cent staff salary cut, while another may send an undisclosed number of its staff packing soon.
Other banks may also soon embark upon massive cut in the salary of their staff as a strategy to beat daunting economic challenges and an alternative to mass retrenchment, it was learnt.
Already, it can be confirm that one of the big banks has issued letters to their staff, notifying them of the decision.
The development, it was gathered, affected mostly workers who are designated as professional staff, whose remunerations are considered heavier than others like drivers and cleaners.
An industry source who spoke to our correspondent explained that the decision to reduce the salary of workers in the banking sector was a decision of the Nigerian Bankers' Committee, the gathering of chief executive officers of banks and the central bank.
"Yes. It was a decision of the Bankers' Committee in reaction to the serious stress being faced by the banking industry. Reduction of salary is better than the sack of staff or what do you think?"
The committee had at its meeting in June, decided to reduce staff pay instead of embarking on mass retrenchment, which was already generating ripples across the country.
While briefing the press on the outcome of the meeting in June this year, Managing Director of Standard Chartered Bank, Mrs. Bola Adesola said, "on the recent item on retrenchment that we also discussed, obviously banks understand the implications of people not being in employment. We know what the situation is like in the country.
"And we are looking at ways of ensuring that we minimise many exit from our institutions. There will always be reasons why people will leave and it is not only in the banking industry. Even the telecoms industry had this type of situation before but it is something we should manage. People will exit institutions and as a matter of fact, it is something we discussed in the past where the governor prevailed on banks to minimise any exit from the institutions.
"So we have noted the market sentiments and I'm sure that going forward, it will be different," she stated.
It was further learnt that while the committee did not stipulate how much the banks were to cut from their staff pay, it put a cap of 30 percent above which no institution should exceed.
Before then, some banks had already retrenched over 3,500 of their staff leading to a threat by Minister of Labour and Productivity, Dr Chris Ngige, to withdraw operational licence of any bank that decided to sack staff without recourse to laid down procedures.
And President of the Nigeria Labour Congress (NLC), Mr. Ayuba Waba and his Trade Union Congress (TUC) counterpart, Mr. Bobboi Kaigama, at an emergency press briefing while attending the 105th congress of International Labour Organisation (ILO) in Geneva on June 9, threatened to cripple bank operations by picketing banks that indulged in further mass sack of employees.
"We will picket them to show them that they do not have the monopoly of disobedience."
CBN governor tackles Sanusi over criticism
Meanwhile, following sharp criticism of the Central Bank of Nigeria (CBN's) foreign exchange policies by the Emir of Kano, Sanusi Lamido Sanusi, alleging that the policies breed corruption, the CBN governor, Mr. Godwin Emefiele, on Friday dismissed the allegation saying it is untrue.
The Emir of Kano, who is the immediate past CBN governor had at the 15th Joint National Council on Development Planing meeting in Kano recently criticised President Muhammadu Buhari's endorsement of CBN's foreign exchange policies which he said encouraged corruption.
Reacting to a question by one of the participants at the National Institute for Policy and Strategy Studies (NIPSS), shortly after he delivered a lecture titled "Managing Monetary Policy in Turbulent Time," the CBN governor said it was better to provide creative advice that would help the economy than sitting back criticising.
Said he: "It is easy to criticise from outside but my advice is not to sit back in a garden and call press men and begin to raise criticisms that are untrue and unsubstantiated. We need advice of former CBN governors, there are channels they can use but not sit in their garden and call pressmen to raise criticism and say what is not true."
The CBN governor advised Nigerians to look inwards in order to come out of the present economic predicament, adding that every year Nigeria, spends about £2 billion on (Nigerian) students studying abroad and wondered why they could not put such money in institutions in the country.
According to him, before, the country was making over £3 billion during the oil boom, adding that the country presently can hardly make up to £500 million. He blamed the elite who preferred imported materials to local ones for the current crisis.
He added that this is not a normal time, adding that any time the CBN takes a stand or hard decision to reposition the economy, it always comes under attacks.
"When you introduce a new policy and people do not complain, then that policy is not working. But when policies are introduced and people are shouting and complaining, then the policies have reached the right place. It means the policy is working. We should not use our hands to destroy ourselves, we should not use our hands to kill ourselves," he said.