Sallah: Rams Go For N250, 000, N180, 000 In Abuja, Lagos, Ibadan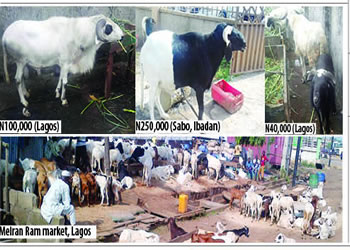 About eight days to Ed-El-Kabir celebration, prices of various sizes of rams have gone up astronomically in cities like Abuja, Lagos, Ibadan and many other parts of the country, Sunday Tribune findings have revealed.
At the Federal Housing ram market in Kubwa, Abuja, where Sunday Tribune saw ram sellers setting up stands with their rams just arriving, potential buyers were seen trooping out to inquire about the prices of each category of rams.
Checks revealed that the prices were higher than what the rams sold for in 2015, with a small size ram now being sold for N30,000 as against N17,000 it was sold last year.
A medium ram went for N40,000, whereas it sold for N30,000 last year.
But at Bodija, Liberty Road and Sabo areas of Ibadan, Oyo State, findings revealed increase in prices of rams, depending on sizes and buyers' negotiation skills.
While medium size rams went for between N40, 000 and N45, 000, at Bodija and Liberty Road, it was about N100, 000 and N180, 000 in Sabo, where the biggest ram was sold at N250, 000.
An auto dealer-turned-ram seller, who identified himself as Alhaji Danladi, said his rams were costly because he raised them in his residence, adding that, that was why they were lookimg well-fed.
At Zuba ram depot, Abuja, a medium ram, which was sold for between N30,000 and N35,000, now costs between N60,000 and N65,000, while big ones go for between N100,000 and N180,000.
It was even discovered that apart from their high cost, rams were not even available in the most of the markets visited at Gwagwalada, Zuba, Mararaba, Nyayan, Lugbe, and Mpape.
A seller at Zuba ram market, however, told the Sunday Tribune that the prices would fall when more rams arrived during the week.
Checks by Sunday Tribune at Ogudu in Ojota area of Lagos State revealed that a big ram is sold for N135,000, while medium ram goes for between N60,000 and N70,000.
A buyer, who identified himself as Mr. Quadri Adeleke, noted that the prices of rams have gone up too high.
He, however, said, "People are getting wiser. Instead of an individual family buying a single ram, people now come together to purchase rams.
"As for my family we are not buying a ram this year. Instead of buying a big ram, we are going to buy a cow which I am sure will last us for a long time."
A visit to the Meiran ram market in Meiran area of the Lagos-Abeokuta High way showed numerous rams and red goats but with very few buyers coming along to buy.
Some of the very few buyers, who were seen in the market, lamented the high cost of rams less than two weeks before sallah.
Findings made by Sunday Tribune showed that the smallest ram in these markets goes for N55,000, as against N40,000 during the same period last year, while a big ram is sold for as much as N200,000 and N180,000.
A buyer, Akinola Ismael, said he contemplated buying a ram a couple of months back when he believed the prices would have been very good for him, but the thought of the stress of keeping and feeding the animal made him change his mind, but now he wished he had done that.
Isiaka Idris from Kano State, who is chairman of Federal Housing Ram Sellers Association, said although people were complaining and crying that there was no money, what they needed to know was that the sellers did not steal the rams.
Idris gave three reasons the prices are on the high side this year.
According to him, ram dealers from Niger Republic, who used to supply rams, would not be able to do so this year owing to the closure of the border following the current battle against insurgents.
He stated that a sack of ram feed that used to sell for N2, 000 has now increased to N5,000.
Another factor, which also affected the price, according to him, has to do with the increase in transportation fare.
He urged the Federal Government to ensure that salaries of workers were paid before the Sallah day to enable people have a hitch-free celebration and also for sales to improve.
SOURCE: Tribune